InPoker elite NFT card
Get the best benefits out of the InPoker platform and stand a chance to win tournament prizes without spending anything.
InPoker Elite NFT Card gives you access to the best special tournaments on the InPoker Platform, tickets to the real tournaments around the world and even to the WSOP championship.
There are more privileges available directly from InPoker and participating partners.
Win THE tournament ticket AND JOIN THE 67th World Championship No Limit Hold'em Main Event in Las Vegas, november 2021
InPoker Elite NFT Card holders get an exclusive opportunity to win tournament ticket to the Main Event. InPoker will host 3 satellite games, each game gives participants a chance to win and join the final tournament where players will compete for the WSOP Main Event ticket to be held on 16th November 2021 in Las Vegas, USA.
Find out more about the InPoker Elite NFT card.

Watch our short video to get a better idea of what it has to offer.

InPoker Elite NFT card provides access to great benefits and exclusive prizes. Card holders are eligible for free entries to daily InPoker tournaments and special privileges for promotions, activities, merchandise and special events.
INPOKER ELITE BENEFITS
Satellite for WSOP main event

Available exclusively for InPoker Elite members. Prizes can be resold to other users.

Free tickets for international live events

Win tickets to the biggest poker tournaments around the world. Prizes can be resold to other users.

Privileges for InPoker partners

InPoker is designed to support and promote other projects and you can receive their support in return.

Free weekly InPoker tournament entries

Participate in the games without depositing any assets or money and stand a chance to win real prizes.

InPoker product privileges

Extended access to various promotions, activities, merchandise and special events.

Ability to sell the card

Your InPoker Elite NFT Card is 100% tradable within the Binance Smart Chain.
INPOKER ELITE NFT CARD
Limited edition of 1,000 "Black Label" cards
The first generation of 1,000 "Black Label" cards provide the ultimate access to all daily InPoker Elite tournaments and can be purchased directly from the InPoker marketplace.
Generate and trade your NFT cards
InPoker allows every card holder to generate more NFT cards by staking the existing one and providing liquidity for 1 month.
After a month of staking, users will receive the LP refund together with the old card (with one deducted mint count) and a brand new generation card with 5 mint counts.
Each card is tradable on the marketplace and is limited to 5 mint transactions, with each consecutive minting requiring a bigger LP staking amount.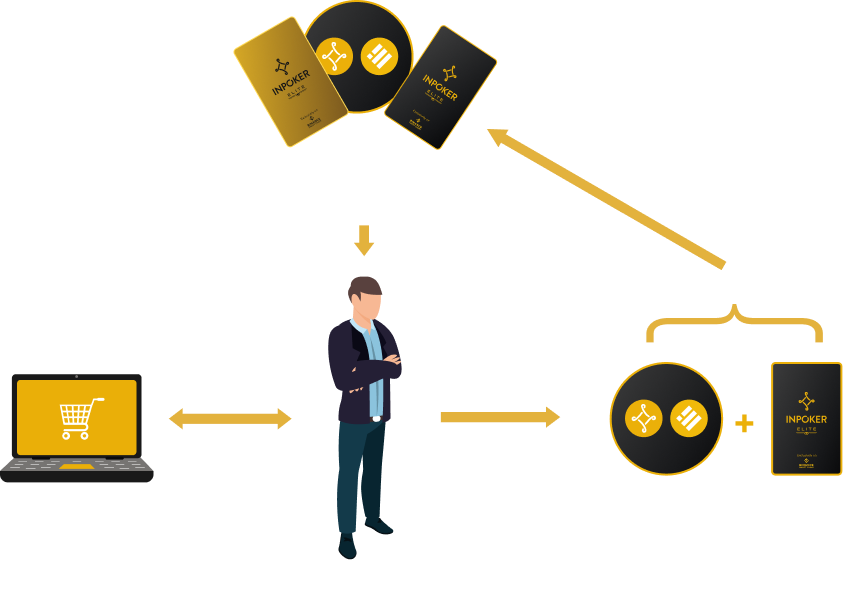 InPoker Elite NFT card generations
All InPoker Elite NFT cards are differentiated by generations. The initial batch of 1,000 "Black Label" cards is purchaseable directly from InPoker and provides the ultimate access to all the tournaments. The subsequent cards generated by the players will be limited to 2,000 per generation, with each generation providing different benefits and access only to specific games. Users can choose the card that benefits them the most or collect a few cards from different generations to enjoy more benefits.